Bob Moore



Bob Moore's web page showing his Walkabout snapshots — photos he takes as he tries to extend his lifespan by following doctor's orders: walking 10,000 steps per day. Well, maybe every other day.

Click on an image below to enlarge.

My doctor
---
June 26, 2015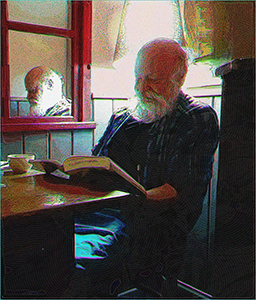 Bard's Reading Nook

---
June 12, 2015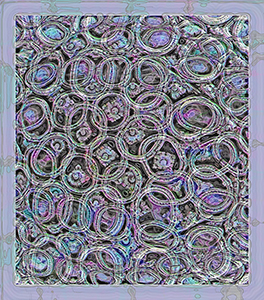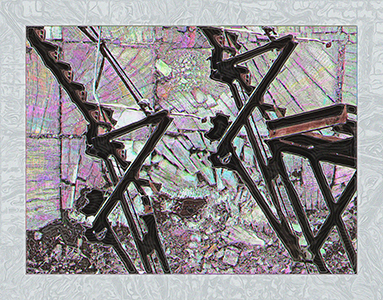 Manhole Cover Composition, Blox & Fire Escape

---
June 11, 2015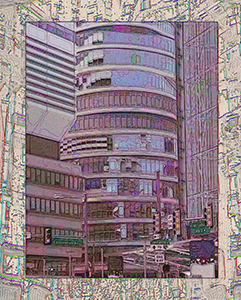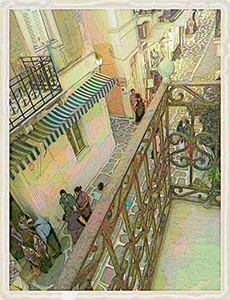 Medical Center Cityscape, Greek Street Scene

---
June 7, 2015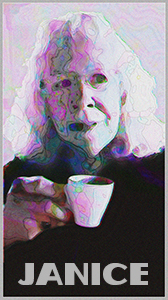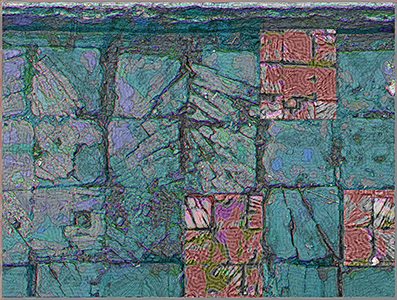 Janice at Hotel Madaky, Camac Wooden Paving

---
June 2, 2015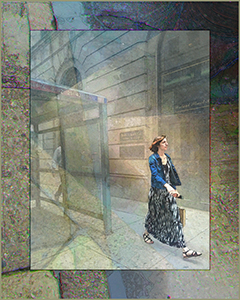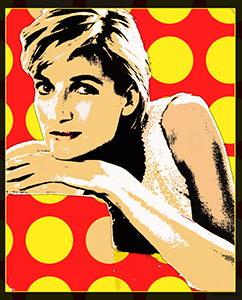 Striding Girl in Skirt, Experimental Diana

---
May 31, 2015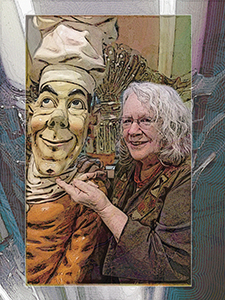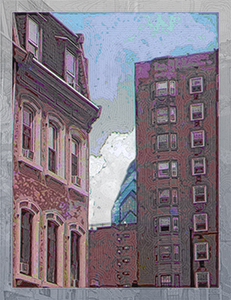 Marlton Diner Chef Poses with Janice, Cityscape 1

---
May 29, 2015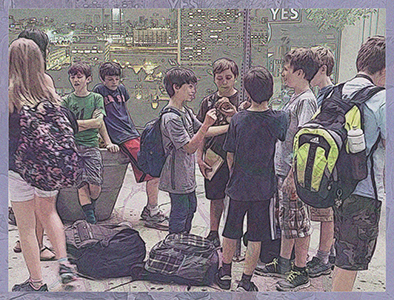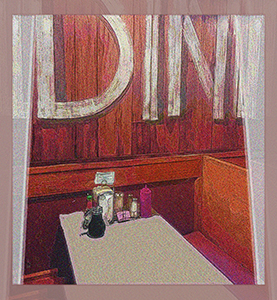 Schoolkids Wait for Bus, Diner Booth

Left, after-school, dismissed students cluster, subgroups engaged in intense focus on group conversation. Background is, to the left, a night-time scene from a 15th floor rooftop. In the right storefronts on Walnut Street.
Right, a wooden booth at the Down Home Diner, a retro Southern homestyle restaurant, at the Reading Terminal Market. I like the familiar cluster of dining accessories and condiments in this picture: catsup, syrup, napkins, salt, papper, sugar, packets of sugar substitute, chili sauce, slips of paper with daily specials. Zoom in to see the awesomeness of the ordinary. I had the chicken-fried steak and biscuit with gravy.
Note:I am trying to take the photo-manipulation techniques of my other web page, Free-for-All which were used for my public domain mash-ups, and adapt them to a more photojournalistic style. First thing I notice is that outlandish coloring doesn't work as well and that it softens everything when you Add-Noise in the last step. Also, running into permission issues -- should I worry that any of these kids are recognizable enough to complain about misappropriation of their images.
---
May 27, 2015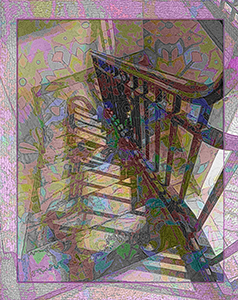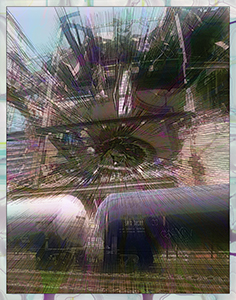 Stairway at the Free Library, Nearby Chemical Train

Walked to the Free Library of Philadelphia, a grand old Beaux-Arts building from 1927. Round trip -- with a stop at a local Trader Joe's -- was 5000 steps.
Left, one of the library's central rooms has soaring ceilings and a balcony providing a second floor -- a kind of mezzanine -- for display of books. Here is a snapshot looking down at one of its marble and wrought iron stairways. The image is overlaid with colors adapted from calligraphic work by Canadian artist Marian Bantjes. Her work appeared in a library exhibit highlighting the Fraktur calligraphic style of Pennsylvania's German immigrants.
Right, my walk took me to some major industrial railroad tracks that run along the Schuylkill River, just 500 steps from my house. As described in this article, the tracks carry oil and chemical cars, and an accident could start a fire or send out poisonous fumes. Of course, if a chemical cloud incident ever happens, I'll "shelter in place" -- grab my cell phone and charger and some breakfast bars, hide in my bathroom, fill the bathtub, and duct-tape all doorways and vents. Then I'll just chill for a couple days. The picture shows some train cars down by the river as well as a nearby theatre being demolished.
---
Began 5/27/2015